Bright LED Trade Show Lighting & Craft Show Lighting
Wishing for a booth full of shoppers? Show Off Lighting can help you achieve that goal. A beautiful, brightly lit display can help to boost sales and make your booth grab all the attention. Our LED trade show lighting and craft show lighting can be a GAME CHANGER! Fast setup, low heat, bright LED, portable, powerful and professional Show Off Lighting will make life a breeze at your next trade show or craft show.
LED Trade Show Lights for Trade Show Displays, Jewelry Display & Craft Shows
SHOW OFF LIGHTING is an American company located in Denver, North Carolina. We provide professional, powerful, and sun balanced LED trade show booth lighting, craft show lighting and display lighting for a wide variety of uses. When considering trade show booth ideas of critical importance is LED lighting for your trade show displays and craft show displays. Most trade show venues have banned hot trade show lights that draw excessive power & produce extreme heat such as holgen & metal halide. Our Las Vegas approved LED trade show lights & craft show lights are low heat & they set up in minutes without tools for a bright and beautiful look that will draw customers to your trade show displays from across the room. All aluminum, adjustable & easy to transport & store Show Off Lighting will significantly reduce your setup time. Many of our customers tell us since using our trade show lights their sales have increased up to 30%. Browse our store and see for yourself how Show Off Lighting can save you time, money and help you increase your sales.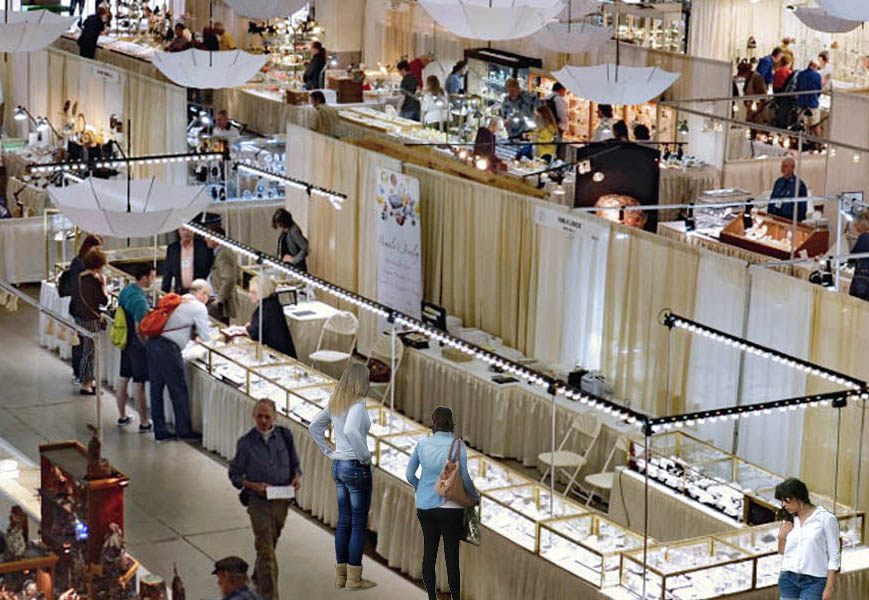 Show Off Lighting trade show light bars with 8w COB LED sun balanced warm and cool bulbs. Available in all aluminum 6ft and 8ft lengths that separate for easy transport & storage. Our patent pending powered head stands for these light bars make setup easy. Available with table top stands or floor stands. Our high end jewelry dealers love these!! We also offer our LED light bars in a complete 16ft starter kit for your trade show booth.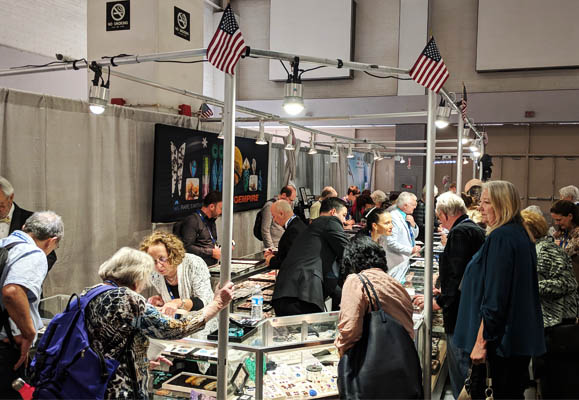 Show Off Lighting adjustable COB LED super clamp light that attaches to almost any flat or round surface with a durable clamp that opens up to 2" diameter. Our super clamp lights are available in 7200 lumens 60w or 10900 lumens 90w. Perfect for pipe & drape, trade show tent lights and trade show booth clamp lights.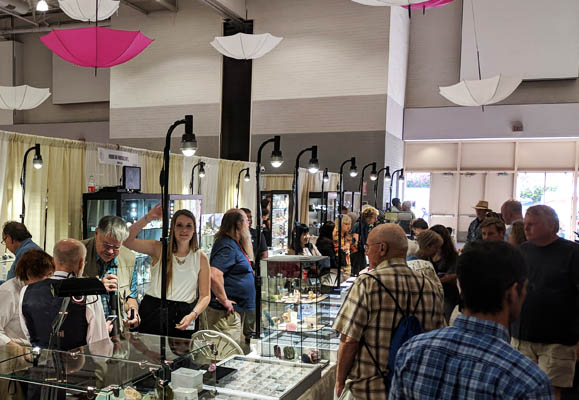 BEST SELLING Show Off Lighting COB LED pop up table display lights with durable base plate & clamp. Self cooling fan and 60 degree beam angle that covers an 8ft table with bright sun balanced light. Comes in 60w or 90w & the telescopic pole extends 5ft from the table top. Available in table top or floor stand model.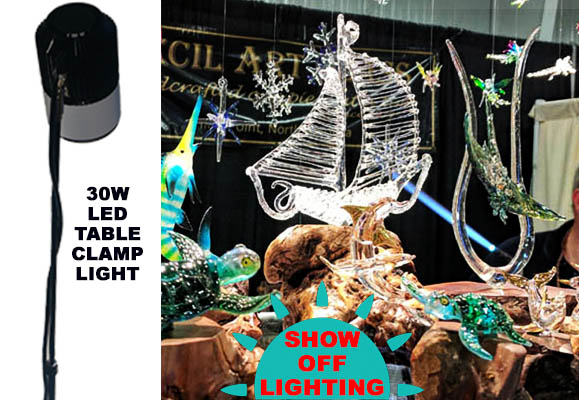 Show Off Lighting LED 30w table clamp light has a 45 degree beam angle and is 4800k and 2880 Lumens for beautiful illumination. Comes with a durable clamp that opens to 2" in diameter for easy attachment. These make beautiful craft show lighting for your craft show displays.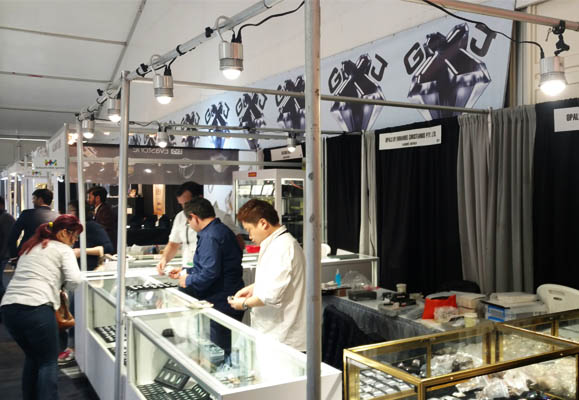 Show Off Lighting COB LED pipe and drape lights attaches in a snap to any pole or pipe and drape trade show displays. A typical 20ft booth would require (5) of these and they daisy chain together for a clean sleek professional look. 60w or 90w COB LED for bright sun balanced lighting that only takes minutes to setup. These are a big hit at the Tucson gem show every year!!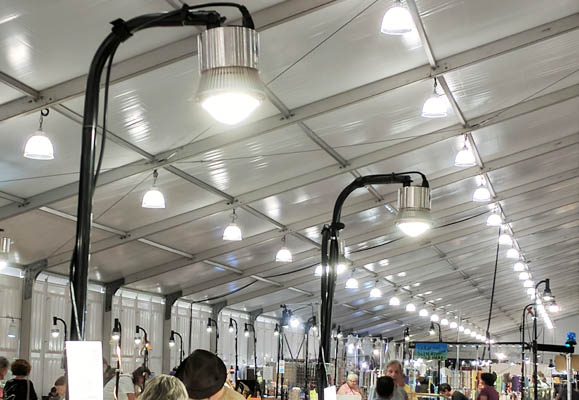 This is our favorite out of all of our trade show lighting products!! Available in both 60w or 90w COB LED with a telescopic pole and adjustable swivel head. Our adjustable head telescopic pole light is one of our absolute best sellers. If you want power and light in minutes then you should consider these trade show lights.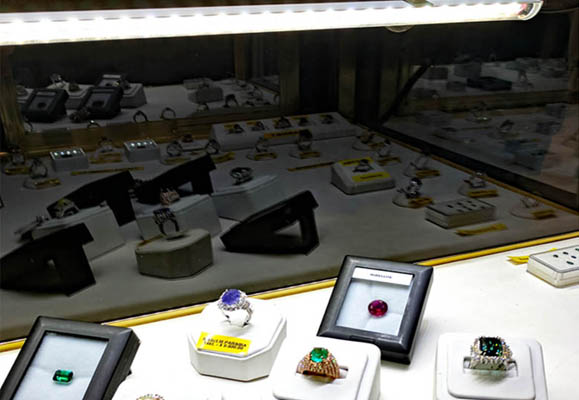 Our LED interior showcase lights have TWO rows of sun balanced lights so they are TWICE as bright!! We make them in many sizes to fit almost any display case (11, 17.5", 22", 28" and 39.5".) The 28" interior showcase light is perfect for your Arizona case lighting upgrade.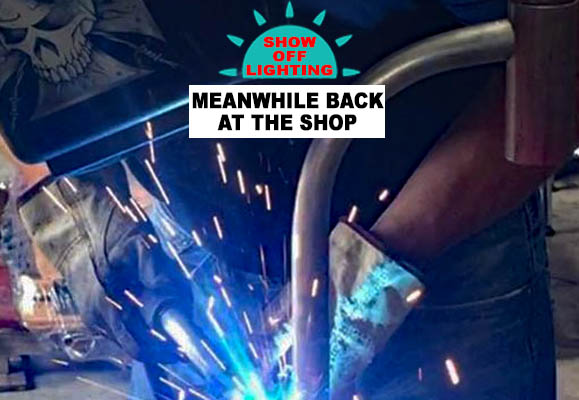 Our high quality LED lighting will bring your trade show displays to life with maximum impact by illuminating each display case with color balanced, high lumens, bright light, drawing minimal current with low heat. Make your diamond jewelry blinding with fire and your colored gemstones pop with bright, accurate color with Show Off Lighting. We offer COB LED E27 bulbs to upgrade your track lighting as well.
Trade Show Booth Display - Craft Fairs - Art Shows - Outdoor Festivals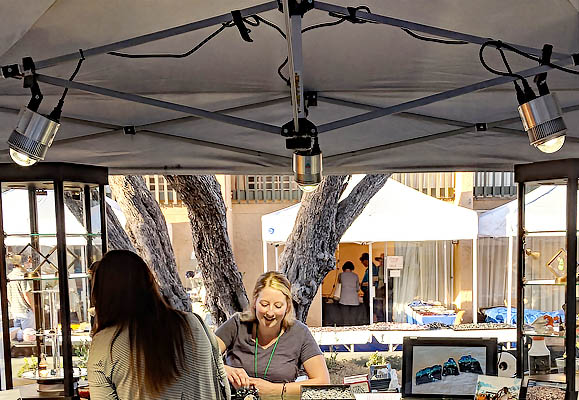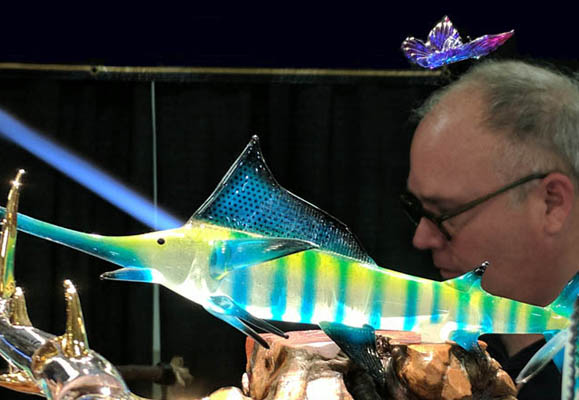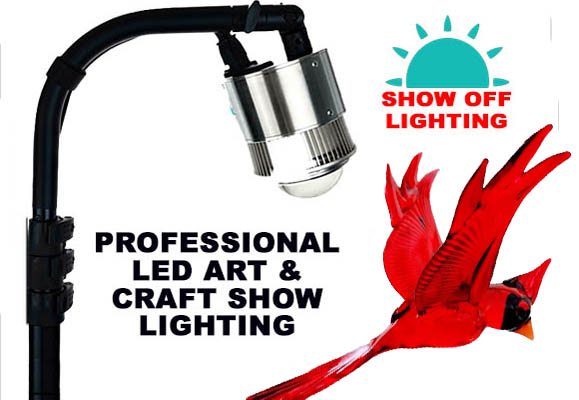 Using SHOW OFF LIGHTING at craft shows, art shows and outdoor festivals (under a tent - avoid water) is easy with a battery and inverter. Keep your trade show displays open after dark at your outdoor craft fairs, craft shows, art shows and jewelry shows. Cecil Art Glass sets up at outdoor craft fairs, craft shows and art shows inside a tent. Before using our LED lighting when the sun went down their ability to sell went down along with it but since using the Show Off Lighting trade show lights they extended their selling hours after dark & increased their sales volume.