Description
POWERFUL, LOW HEAT COB LED. Quick setup, Las Vegas approved, all aluminum & over-engineered for durability. This amazing light will clamp to almost anything & has a (2) warranty on the light fixture and bulb. A bright & powerful 60w or 90w COB LED 7200 or 10,200 lumens super clamp light that can be used with pipe and drape, uplight, downlight and more. Replace your old  track lighting, hot Metal Halide (HID) & Halogen lights with perfect LED illumination by Show Off Lighting. Setup in minutes while using a fraction of your current electrical requirements with our affordable, lightweight, powerful COB LED, low heat, no transformers, all aluminum, easy to store super clamp lights. Comes with a black 6ft power cord.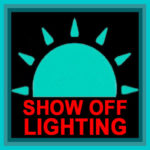 60w or 90w COB LED bulb
fan cooled, almost no heat
7200 lumens for 60w or 10,200 lumens for 90w 
neutral white 4000k
87 CRI for true color rendering
all aluminum, adjustable beam angle
60 degree bulb beam angle
3 prong power cord included
adjustable heavy duty clamp opens to 2″ diameter
lightweight 2 lbs
power requirements are 90 to 260vac
no transformers needed
maximum temperature is 112f
(1) of these takes the place of 6ft worth of traditional track lighting
Indoor or covered tent use only 

We have made some revisions to this light to make it even better and it extends to 4 inches instead of 6 inches
FAQ: What is the proper spacing for this COB LED super clamp light?  Ideally one of these lights should be placed 5ft to 7ft apart for bright and consistent coverage along the length of your booth.
How long will it take to setup the COB LED super clamp lights in a typical 20ft booth & how many lights will it require? With pipe and drape poles already in place, a typical L shaped 20ft booth will require 4 or 5 lights and take about 10 minutes to setup.
What are the power requirements?  Our 60w super clamp light is 60 actual watts of power or 0.5MPS at 120V and 90 to 260VAC  
(2) year warranty included on this product and 30 day money back guarantee.
READ THE INSTRUCTION SHEET BY CLICKING ON THE "MORE" TAB ON THE MENU, SELECT "PRODUCT INSTRUCTIONS" AND CLICK ON THE PRODUCT TITLE.
WATCH THIS INSTALL VIDEO BEFORE USING THE SUPER CLAMP LIGHT