TESTIMONIALS
What successful vendors took to the Tucson Gem Shows
TESTIMONIALS FROM TUCSON
Vance Gems said "our fine jewelry display stood out from everyone else" at the Tucson Gem & Mineral show (TGMS) & the GJX show this year. "Our booth has never looked so good since we started using Show Off Lighting" and it only took minutes to setup!! They had an incredible GJX Tucson show followed up by one of the most successful Tucson Gem & Mineral Shows (TGMS) ever and they attribute much of the success to Show Off Lighting LED trade show lights.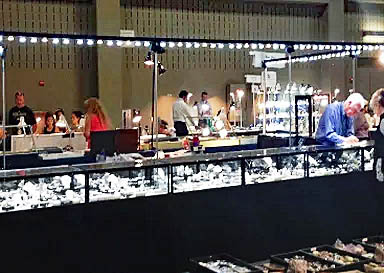 John Garsow Gems & Minerals dazzled customers at the Arizona Mineral & Fossil Show using Show Off Lighting LED trade show lights. His fine gem and minerals popped with color and his trade show displays looked bright and alluring. They were so pleased with Show Off Lighting that they recommended us to many other dealers.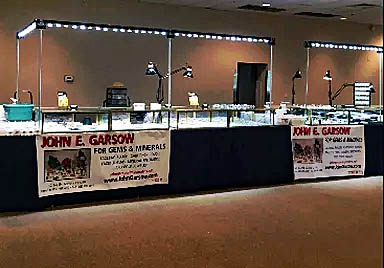 Rare Earth Mining Co. decided not to rent lights this year but instead tried LED trade show lighting from Show Off Lighting. Look for yourself how brilliant and professional their trade show booth looked at the GJX Tucson show!! They were one of many happy dealers at the Tucson GJX show using Show Off Lighting LED trade show lights. The trade show booth beside Rare Earth Mining liked our trade show lighting so much that they ordered Show Off Lighting too!!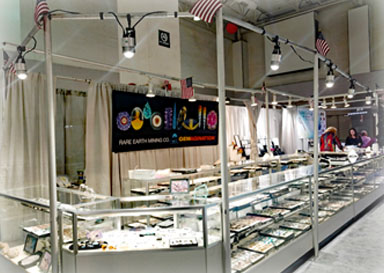 New Era Gems swapped out their hot metal halide trade show lights to low heat LED trade show lights by Show Off Lighting. They have a huge booth at the Arizona Mineral & Fossil Show and purchased our lighting because their hot metal halide lights they use to use caused power failures, produced excessive heat and the color temperature was awful for colored gemstones. Metal halide and halogen use most of their energy producing heat and very little is left for light quality. COB LED lighting uses most of its energy producing high quality light which makes a huge difference for your trade show displays. New Era Gems is thrilled with Show Off Lighting!!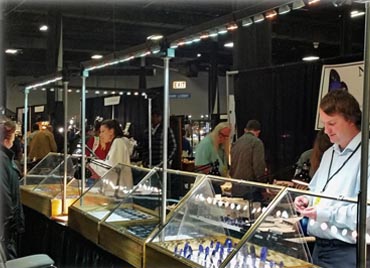 Coast to Coast Rare Stones International does many of the high end gem and jewelry shows like AGTA, JCK and GJX. Looking professional is critical to them and they do not want to spend an hour setting up just their trade show lights. When our paths crossed Show Off Lighting was just the right trade show lighting solution they had been looking for but could never find. They were shocked at how easy to setup and powerful our LED lighting was and what a gigantic difference it made in their presentation. They were so impressed by the results they received from Show Off Lighting they told many other vendors who also ordered our LED trade show lighting. Presentation is everything to Coast to Coast Rare Stones and that is why they use and recommend Show Off Lighting.
Dudley Blauwet Gems created a buzz at the Tucson AGTA show because his booth looked so outstanding with Show Off Lighting. All the other dealers came to the booth asking about their LED trade show lights. No only were other vendors drawn to the Dudley Blauwet Gems booth but more importantly countless customers came to shop. They love our Las Vegas approved LED trade show lights because our lighting makes their trade show booth come alive with bright colors and dazzling light making them command attention at every trade show.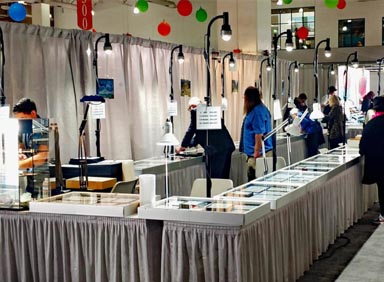 Mr. Duke owner of the Intergem Gem & Jewelry Shows was so impressed with Show Off Lighting that he ordered our LED trade show lighting for his own fine American Indian jewelry display. Mr. Duke said "Show Off Lighting makes setup a breeze, is power efficient and I wish my trade show vendors would use Show Off Lighting at all Intergem shows." He indicated that many of his trade show vendors use hot metal halide or halogen lights that draw excessive current and cause power failures. We use only high quality, 3rd generation COB LED lights that are powerful, bright, low heat and they will dramatically reduce your power consumption making power failures a thing of the past.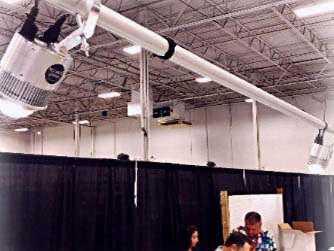 EONS EXPOS promoter of the Tucson 22nd St show works in conjunction with Show Off Lighting for us to provide trade show lighting rentals at their Tucson 22nd St show, their Denver Coliseum show and their NY/NJ Gem & Fossil show. They recommend Show Off Lighting LED trade show lighting to all of their vendors and include our rental form with their contracts. Like many other trade show promoters they banned the use of high heat producing trade show lights as they are a fire hazard and they require an overwhelming amount of power to operate. The Tucson 22nd St show is the most progressive and fastest growing gem show in Tucson and we are honored to be working with them and displaying at their Tucson gem show in booth C-6.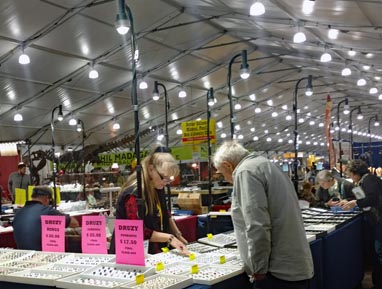 One of the largest booths in the Tucson Gem & Mineral Show (TGMS) uses Show Off Lighting. This booth is an 80ft booth and look how straight and brilliant our Show Off Lighting LED trade show lights are. Using our trade show lighting system in a booth that size cuts their setup time dramatically. They love the way their diamond jewelry sparkles with Show Off Lighting and how easy our LED trade show lights are to use. Pamela's Jewelry is completely sold on Show Off Lighting!!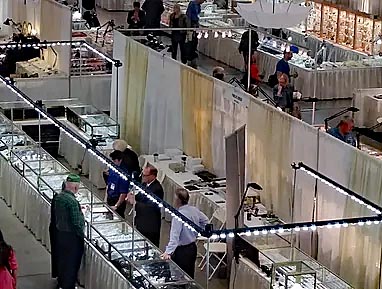 These are just a few insights into what our customers think and experience using Show Off Lighting LED trade show lights.