TRADE SHOW BOOTH LIGHTING MADE EASY
Trade show booth lighting made easy with Show Off Lighting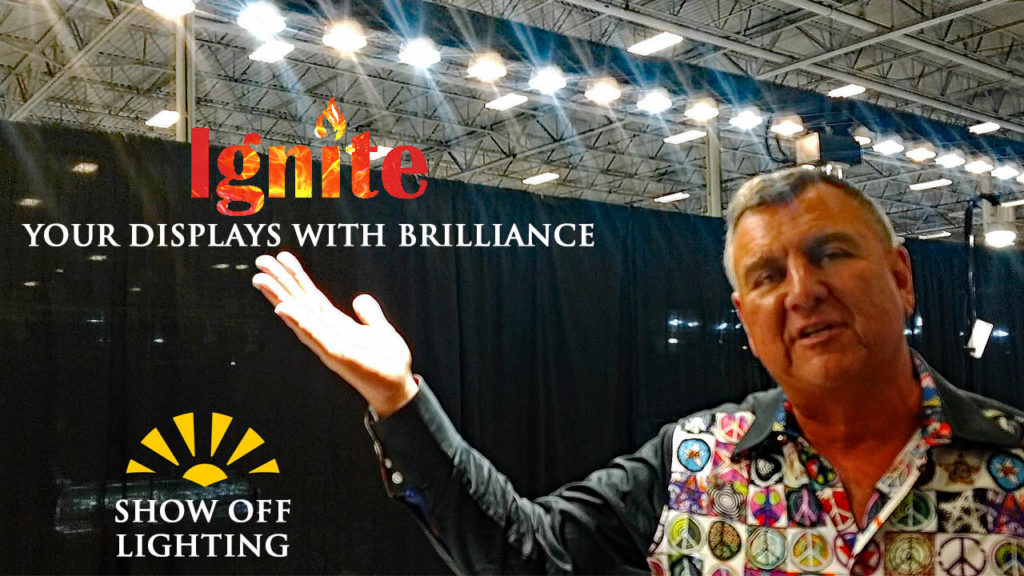 An essential part of having a trade show booth that attracts attention is your trade show booth lighting. Think it does not really matter? Well you would be dead wrong about that! What if we told you that the majority of our customers have told us that they experienced up to a 30% increase in sales? This is why trade show booth lighting is such a critical part of your trade show displays. You can blend in with everyone else or your trade show light fixtures can set you apart. Let your trade show booth be the focal point in a sea of competitors by using our powerful, easy to setup, energy efficient LED trade show booth lighting. Show Off Lighting is made here in America with you in mind. We know exactly what you need to boost sales, stay successful and ahead of everybody else.
Trade show booth lighting is  made easy with Show Off Lighting!! Our quick setup trade show booth lighting will cut your setup time down to a matter of minutes. You will save not only time but money because our bright, low heat lighting is energy efficient.  Many of our customers switched over to Show Off Lighting because hot halogen or metal halide lights are systematically being banned from most trade shows and they render very poor light quality.  Our LED trade show booth lighting renders high quality, sun balanced, LED light and emits low heat.  Our LED lighting is better because 90% of the energy is spent producing high quality light with only 10% of the energy spent producing heat. When you are using metal halide or halogen lights 70% of the energy is spent creating heat and only 30% of the energy is left for light and that is a HUGE problem. Show Off Lighting is a complete game changer for your trade show booth and there is nothing like it on the market.
We have many different types of LED trade show booth lighting so we can make everything easy for you while helping to increase sales!!

The image below is the same trade show booth. The BIG difference is the trade show booth lighting. Look what an incredible difference Show Off Lighting makes!!
LEFT SIDE OF IMAGE IS BEFORE SHOW OFF LIGHTING
RIGHT SIDE OF IMAGE IS AFTER SHOW OFF LIGHTING