Description
BRIGHT, DURABLE, RIGID-NO SAG. Our lights are interchangeable so you can use most any GU10 LED bulb on the market up to 50w per GU10 socket. Our patented interlocking design lets a 6ft light bar separate into (2) 3ft sections for easy storage. This light bar comes sun balanced with 8w COB LED GU10 bulbs both warm (3000k) and cool (6000k) that have a 40,000 hour life span. All of our light fixtures come with  a (2) year warranty. We will always have LED bulbs in stock for you to purchase at amazing prices, even as technology advances in the industry. Each bar ships with a spare bulb & additional spares are available in packs of 2 on our site. Available in 6ft & 8ft.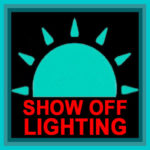 COB LED 8w sun balanced configuration
3000k warm and 6000k cool for natural white light
Interlocking design so a 6ft bar separates into (2) 3ft sections 
40,000 hour COB LED bulb life span
Lightweight aluminum construction
Rigid, no sag design
(2) year warranty
Low heat, energy efficient
No external transformers
Quick to setup & easy to store
High quality and durable
Made for indoor or outdoor covered use only
OUR POWERED HEAD STANDS TO SUPPORT THESE LIGHT BARS ARE SOLD SEPARATELY. PLEASE CLICK ON "ACCESSORIES" TO PURCHASE OUR BEST SELLING TABLE TOP POWERED HEAD STANDS OR OUR FLOOR MODEL POWERED HEAD STANDS. 
USES:
Perfect powerful, bright, low heat, energy efficient, LED display lighting for portable jewelry display lighting and everywhere display lighting is needed.
(2) year warranty included on this product and 30 day money back guarantee.
READ THE INSTRUCTION SHEET BY CLICKING ON THE "MORE" TAB ON THE MENU, SELECT "PRODUCT INSTRUCTIONS" AND CLICK ON THE PRODUCT TITLE.
PLEASE WATCH THIS QUICK SETUP VIDEO BEFORE USING 
BULBS:
You can safely use almost any GU10 base bulb, up to 50 watts in each socket. We do not us Halogen bulbs or any other excessive heat producing bulbs in any of our products. Our standard shipping configuration is with low heat, warm and cool COB LED bulbs.
LIGHT BAR JOINTS:
With the lock pin, always slide the lights together, do not twist. Twisting the light bars will cause the precision machined parts to scrape and chip, which will cause them to stick. Always keep very light grease on the fittings to prevent this. If light bars start sticking, wipe the connectors inside and out. Use a fine sandpaper (1000 grit) to clean the pin and the socket and re-apply a light lube, Vaseline will work just fine.
HEAT:
Average light bar temperatures will run about 110 degrees.
REPLACEMENT BULBS:
Due to the portable nature of Show Off Lighting, occasionally bulbs will go bad. Bouncing and banging the lights will decrease the bulbs lifespan. Using these guidelines will ensure the maximum life from your bulb investment.
BULB WARRANTY:
Show Off Lighting ships with (2) advanced warranty replacement matched spare bulbs for each light bar purchased. Bulbs will fail occasionally and you now have spares on hand to keep matched bulbs shining bright. Matching bulbs will always be available from Show Off Lighting for a reasonable price.
LED LIGHT BAR & POP UP LIGHT WARRANTY (EXCLUDING BULBS):
Show Off Lighting is guaranteed for (2) years from manufacturing defects. If there is a defect we will fix it at no charge. Simply return the light to our Denver, North Carolina facility. Accidental damage can be repaired quickly and easily by contacting us. Warranty excludes bulbs.